Payment
The main currencies in this online shop are Euro, US dollars and British pounds, but of course you can buy our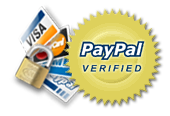 products no matter what currency you have in your Paypal account. When you make the payment, Paypal will automatically convert the currency you currently have and you will be able to pay for your order.
We can accept payments via the Paypal online payment service.  We have chosen it, because it is the safest one for our customers. By using it, you will have all the benefits and obligations, that are featured with this payment method.
No payment info, like your credit card number or your paypal data, will be stored in www.moto-sticker.com! You will need to enter such information only after you go to the Paypal homepage.
If you don't have a Paypal account, you can still make an order, because Paypal offers you the opportunity to use your credit or debit card. You will still need to go to the Paypal website, but instead of logging in, you just need to enter your credit or debit card details. Remember, you will not need to register to Paypal if you don't want to, you will just use their system to make a one-time payment with your credit or debit card. Please see this example:

Please note, that your order will be considered as completed only after the payment is successful.
Custom orders
Many people want to buy sets with custom colors, so they can individualize their bikes. That of course is absolutely not a problem - we can change every color of every decal like you want it.
So if you want something like that, please contact us to discuss all the details before placing an order. After that you can buy the regular set for your bike from the store and then leave a note about your exact wish in the special message field, that you will see just before you will be redirected to the Paypal website to complete your order.
Returns
We are always ready to help all of our customers regarding all kind of issues or questions, but sometimes there are people, who are complaining about issues, that would never happen if they have read all the sections of this site.
So please, before you buy anything from this website, take a look of all the sections in it. It will take you not more than 5 minutes to read all of them. when you do this, you will know exactly what you are buying and exactly how long it will take before it arrives to you.
- returns are accepted, but only if there is a genuine reason for that. If you have damaged the decals in any way or if you haven't purchased the right set for your bike, you can not return your decals.
- the decals should be returned within 4 days after receiving them.
- the shipping costs for returning the decals should be paid by the buyer.
- if for some reason (wrong address, not called for, etc...) the package has been returned to us, the buyer is responsible for paying the shipping costs for resending the package. In these cases returns are not accepted.
- when a return has been made, the buyer receives a full refund only after the package has been received and inspected by us.